The Baltimore/Washington Conference college scholarships for the Fall 2019 semester. Students can apply January 3–March 7, 2019 through online application system.  For additional information and to apply, visit www.bwcumc.org/administration/local-church-resources/scholarships/.
DECEMBER Announcements | At A Glance! (click)
December SHARE  | Orders Due:  December 2; Distribution:  December 15, 9:30-11am, Upcounty Recreation Center.  Contact Sis. Bernice Brown, sweetleo817@msn; Ray Hopkins, rayhopkins7@msn.com; or Rev. Holt, drmlholt@gmail.com. Youth, please see Rev. Holt for SSL (community service) hours.
December 23, 11am | Christmas Celebration!
UMM's good old-fashioned breakfast will follow celebration.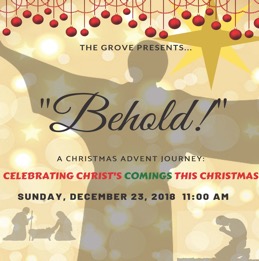 Click here for Details Regarding Listed "Grapevine" Events